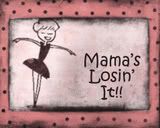 Mama Kat is having a feel good/bad about yourself marathon...ok, my words not hers. Here is the question:

Ask a loved one to use 6 descriptive words to describe you and report your findings. How well do they know you?

So I asked Mr B, all through text messages of course and here's how it goes.

My Text
I need the top six words you would use to describe me. Be honest.

His Text
Beautiful, honest, extroverted or outgoing, intelligent, upstream thinker (or any other one word that best describes that characteristic), and gullible. What about me? I want to play?

My Text
Do you mean forward thinker, like out side the box or I think ahead like into the future?

His Text
Both, I'd say in depth thinker, but how do you sum that up into one word?

My Text
I have 7 not in any particular order. Understanding, generous, charismatic, selfless, romantic, gorgeous and funny.
Now isn't that all so sweet? Except I think he could have left gullible out...even if it is VERY true and I told him to be honest, I don't think I really meant it. So I am replacing it with Extremely Talented. Its my blog, I'll change his answer, change the rules, and you will like it. Thanks for liking it...I am honest....and beautiful. Don't forget beautiful.
So there you have it.

Me:
Beautiful
Honest
Outgoing
Intelligent
In depth Thinker
Extremely Talented

I accept my award with total humility....